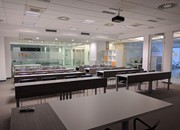 Scope:
CL-600-2B19 (GE CF34)

CL-600-2C10/-2D15/-2D24 (GE CF34)

Boeing 737-300/400/500 (CFM 56)

Boeing 737-600/-700/-800/-900 (CFM 56)

Boeing 737CL to B737NG Difference (CFM 56)

Airbus A318/A319/A320/A321 (CFM 56 and V2500) -

SOON!!
Instructors are experienced licenced technicians holding certification privileges from our 145 organisation. This gives additional value to training itself.
The minimum participation time for the trainee in order to meet the objectives of the course should not be less that 90 % of the tuition hours of the theoretical training course.
Additional training may be provided by the training organisation in order to meet the minimum participation time and charged additionally. If the minimum participation defined for the course is not met, a certificate of recognition should not be issued.
Depend on location capabilities maximum number of student per group is 28.
We can organise training on your request on any location you wish.
Exam
Each examination shall be passed with at least a 75% mark. The maximum number of consecutive attempts are three. Further sets of three attempts are allowed with an one year waiting period between sets. A waiting period of 30 days is required after the first failed attempt within one set, and a waiting period of 60 days is required after the second failed attempt.